Meet our new Executive Director! / Rencontrez notre nouveau Directrice exécutive !
---
---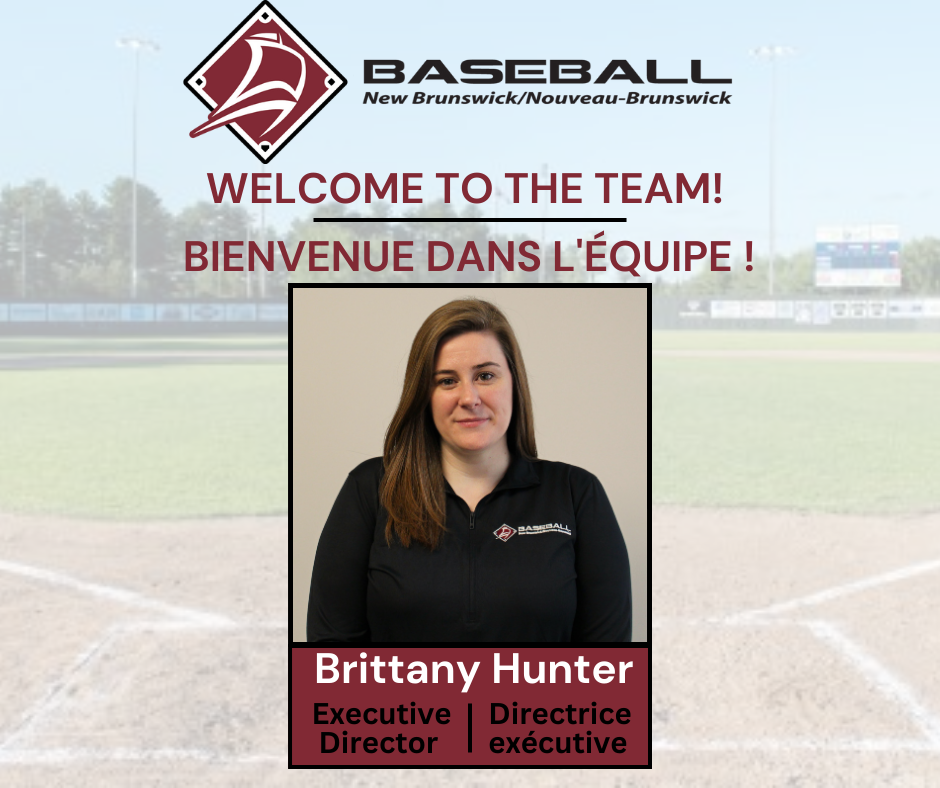 ---
Baseball New Brunswick is very excited to announce Brittany Hunter as our new Executive Director.
Brittany received her Bachelor of Recreation and Sports Studies from the University of New Brunswick and has spent the last several years working in the recreation and sport non-profit sector at a director level. Her experience includes youth programming, facility operations and management, scheduling, and non-profit administration. Sport has always been a part of her life, especially while growing up in rural New Brunswick.
She is extremely excited to join the Baseball NB team and see baseball continue to grow in New Brunswick!
Please join us in welcoming Brittany to the Baseball NB team.
-
Baseball Nouveau-Brunswick est très heureux d'annoncer la désignation de Brittany Hunter à titre de Directrice exécutive.
Brittany a obtenu un baccalauréat en études des loisirs et des sports de l'Université du Nouveau-Brunswick et a passé les dernières années à travailler dans le secteur des loisirs et des sports comme directrice. Son expérience comprend la programmation pour les jeunes, les opérations des facilités, l'établissement des horaires, et l'administration des organismes à but non lucratif. Le sport a toujours fait partie de sa vie, surtout lorsqu'elle a grandi dans une région rurale du Nouveau-Brunswick.
Elle est très excitée de se joindre à l'équipe de Baseball NB et de voir le baseball continuer à se développer au Nouveau-Brunswick !
Veuillez nous rejoindre pour souhaiter la bienvenue à Brittany au sein de l'équipe de Baseball NB.